Ultimate "RAMEN" Guide Vancouver – Researched by the readers and writers of LifeVancouver –
All over the world,"Ramen" is becoming the next popular Japanese cuisine after "SUSHI".
It's no exaggeration to say that Vancouver is one of most competitive RAMEN battleground. LifeVancouer went out to eat as many Ramen as we could, to compile the "Ultimate Ramen Guide Vancouver". Tastes & opinions vary, but we hope our reviews give you an insight into the Vancouver Ramen.
Let's explore and find your favourite one!
(Some of the information written on February, 2015. Please let us know it, if you find prices, times and other info. have changed.)
Useful terms to enjoy Ramen
【Shio】Salt 【Miso】Soy bean paste 【Shoyu】Soy sauce 【Tonkotsu】Broth made from pork bone 【Chashu】Barbecued marinated pork
Ramen Restaurants in Vancouver By Region style
Hokkaido Ramen Santouka(Asahikawa Style), Hida Takayama Ramen(Hidatakayama Style), Yah-Yah-Ya Ramen(Yokohama Style), Danbo・Menya Japanese Noodle・The Ramen Butcher(Fukouka Style)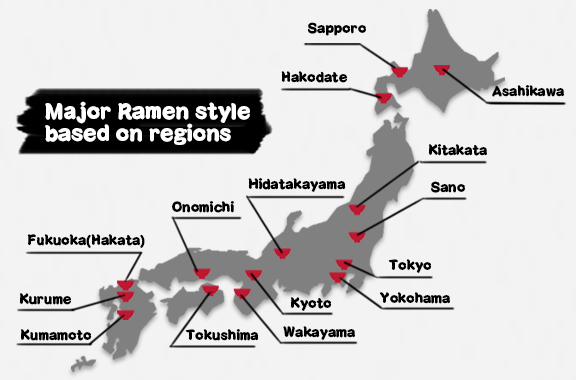 Asahikawa
Asahikawa ramen style is mainly a blend of pork and chicken stocks and a seafood broth, making for a rich and complex soup with a shoyu base.
Yokohama
Yokohama is better known for ie-kei ramen, a viscous, salty, and fatty tonkotsu-shoyu style pioneered at Yoshimuraya in 1974.
Hidatakayama
Hidatakayama's ramen is sometime called "chuka soba" or Chinese-style ramen in this region in order to distinguish from Japanese traditional noodle used a soy base. The soup is mainly made from bonito,chicken and vegetables with Soy sauce and mirin (Sweet rice wine).Noodles are curly type.
Fukuoka(Hakata)
Broken pork bones are cooked over a high flame for days at a time here until the marrow seeps out, creating a smooth and creamy broth.
If you learn Ramen style by region more, these site(Lucky Peach and Is Japan cool? Ramen) will help you.
---
WEST END
West End is the most popular destination among foodies, and is also the most competitive Ramen area. You won't go a block without seeing a Japanese IZAKAYA or Ramen restaurant in this neighbourhood.
Men no Kura(麺の蔵)
【Address】1773 Robson St, Vancouver
【TEL】(778) 379-5872
【Business Hours】Mon 11:00am – 4:00pm, 5:00pm – 10:00pm / Tus – Thu 11:00am – 4:00pm, 5:00pm – 10:00pm / Fri, Sat 11:00am – 11:00pm / Sun 11:00am – 10:00pm
【Closed】-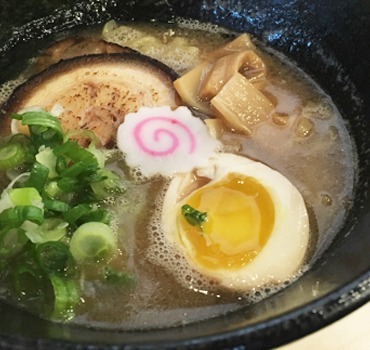 Tonkotsu Shoyu/$11.50
Tasted by our writer
I tried Tonkotsu Shoyu and Tsukemen Original. Tonkotsu Shoyu has very rich taste soup and the thick frizz noodle can hold it very well. The chashu is savoury and goes well with soup too. As far Tsukemen Original, I noticed it's very similar to Taishoken's Tsukemen which has rich dried bonito broth and thick noodle. Taishoken is Ramen restaurant group in Japan and famous for the father of Tsukemen style Ramen. I heard that they're actually descended from the Taishoken group. If you know the taste of Taishoken, it's worth to try comparing the taste!
(B-grade Japanese gourmet Loving Writer from Fukuoka Japan)
---
Koyuki Sapporo Ramen(小雪)
【Address】795 Jervis Street, Vancouver
【TEL】(604)695-9177
【Business Hours】Mon – Thu, Sun 11:30AM–10PM / Fri,Sat 11:30AM – 11:00PM
【Closed】-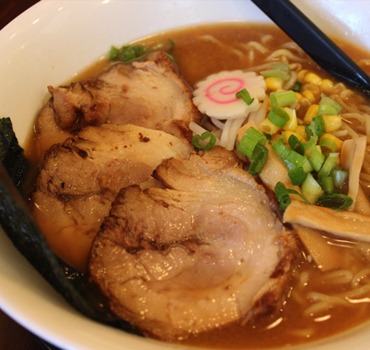 Miso Ramen/$11.95
Tori Shio Ramen/$10.95
Tasted by our writer
I tried their signature, Miso Ramen. It made by a Japanese chef who had worked for Sanpachi Ramen in Vancouver. Sanpachi Ramen group is Sapporo style Ramen restaurant chain basically from Hokkaido, Japan. That means it has the typical Hokkaido style combination of corn topping with Miso soup and makes mild flavor in Ramen bowl. Their Chashu has the best thickness and balance of lean and fat for me. It goes well with the mellow texture of Miso soup.I also tried Tori Shio Ramen whose soup made from chicken broth and salt. The soup has delicate flavor and very light and mild salty taste. If you like lighter taste Ramen, I'll recommend it.
(Spicy Food Loving Writer from Fukuoka Japan)
---
Kingyo Izakaya(居酒屋金魚)
【Address】871 Denman St, Vancouver
【TEL】(604)608-1677
【Business Hours】Sun – Thu : Lunch 11:30am – 2:30pm Dinner 5:30pm – 11:30pm / Fri,Sat : Lunch 11:30am – 2:30pm /Dinner 5:30pm – 12:00am
【Closed】Statutory Holidays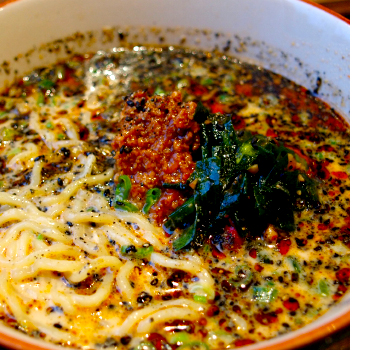 Tasted by our writer
It's actually "Tantan Men", and it's not "Ramen". I couldn't help but love the its name; "天下無双 (TENKA MUSOH) ". It means "The Land's Greatest/Unmatched Under Heaven"!! lol Sounds so cool.
The Tantan Men hasn't lost the crown as the 'most ordered dish' during Kingyo's dinner hours since it opened. Apparently, the Tantan Men has gone through several 'rejuvenations', meaning it's been continuously improved upon.
The noodle is wavy , thick, quite filling, with a light crunchiness coming from the chives. It compliments the NikuMiso (Minced meat seasoned with soy bean paste) perfectly. The soup is Tonkotsu-based broth, so it's creamy and mild, yet sharp due to a generous heap of spicy chili garlic oil. Just by inhaling the back sesame aroma will make you drool. If you love spicy and creamy, this is the one.
(Spicy Food Loving Writer from Fukuoka Japan)
OUR FAMOUS INVINCIBLE & UNDEFEATED TANTAN NOODLE(天下無双の担々麺)/$11.80
Message from the restaurant's manager
Please try our "天下無双" Tantan Men, the most popular dish at our restaurant since we opened. It's even respected by other Ramen restaurants! You will become a big fan at the first bite!
---
Downtown
Downtown Vancouver is full of Japanese restaurants and Ramen places. Certain Ramen places may close before regular hours, if they run out of soup, so make sure to come early or book ahead if it's during dinner time.
China Town
There are also a tons of hidden gem restaurants in Chinatown. Yes, Ramen restaurants are too.
Broadway
Stretching from east to west through Vancouver, Broadway is full of Ramen adventures.
Kitsilano
East Side
Burnaby
Richmond
Sanpoutei Ramen(三宝亭ラーメン)
【Address】#160- 4328 No.3 Road, Richmond
【TEL】604 285 1226
【Business Hours】Wed~Sun 11:00am – 3:00pm , 6:00pm – 10:00pm
【Closed】Mon / Tue / Holiday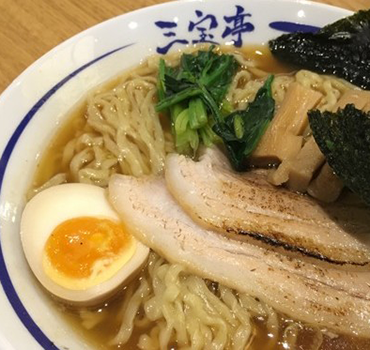 Tasted by our Writer!
From "Niigata, Japan" the "Sanpou Group" opened a chain restaurant in Richmond. Despite them being a chain restaurant, they deliver a proper Japanese flavor to the west coast. The soup is made from simmered chicken, pork bones, and veggies, which is called "Niboshi". It truely reminded me of the Japanese style ramen. I would personally recommend the "Niigata Shoyu Ramen".
(Local Gourmet, LV Japanese Staff)
---
Surry&Coquitlam
Takano Japanese Noodle Café
【Address】3242 Westwood St. Coquitlam
【TEL】604 461 3798
【Business Hours】Mon - Sat 11:30am - 8:30pm
【Closed】Sun
You can taste basic ramen such as shoyu and Shio but they also provide Teriyaki ramen and Wonton ramen too! In particular, Teriyaki ramen isn't common in Japan, so even you are Japanese, you want to try the one, right?
---
Full Ramen (フルラーメン)
【Address】103-15925 Fraser Hwy, Surrey
【TEL】604 503 6388
【Business Hours】Mon~Thu 11:00am – 9:00pm / Fri 11:00am – 9:30pm / Sat 11:30am – 9:30pm / Sun 11:30am – 9:00pm
【Closed】Holiday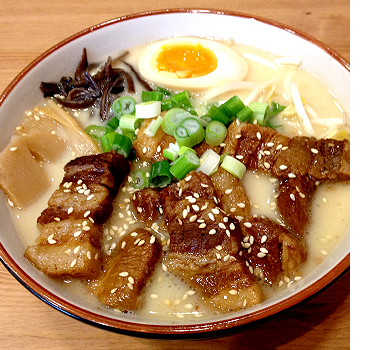 Tasted by our writer
The restaurant has opened in December 2013. This time, we had something quite rare in Vancouver called the "Kakuni Ramen" (kakuni = simmered pork). The soup was a pork base Tonkotsu Soup with great flavour, topped with soft simmered pork. All the ramen menus come with a flavored, boiled egg. The Chinese owners spoke very fluent Japanese, and had trained in a Japanese restaurant for more than 10 years. They are very familiar with the Japanese taste and delivered something extremely close to what stores offer in Japan. Apparently, Japanese families that live in Surrey, and even guests from White Rock come to eat at this place. We have been receiving numerous recommendations from our audiences as well.
(Life Vancouver staff / Ramen Lover from Kanagawa)
Comments from the Restaurant
Our ramen consists of our unique noodles and the deeply flavoured soup, soft and tender Cha-Shu, and the flavoured boiled egg, that delivers the most delicious harmony to our customers. Please come out to try it!
---
Others
Workshop Vegetarian Cafe
【Address】296 Pemberton Ave, North Vancouver
【TEL】604 973 0163
【Business Hours】Mon - Sat 8:00am - 6:00pm
【Closed】Sun / Holiday
Workshop Vegetarian Cafe is located in North Vancouver.Be careful! Noodles are only available from 11am-5:30pm!
---
Sushi Gio
【Address】20177 88 Ave E #1 Langley, BC
【TEL】604 371 2411
【Business Hours】Mon−Thu 11:00am – 9:30pm / Fri, Sat 11:00am – 10:00pm / Sun 11:00am – 9:00pm
【Closed】Holiday
This korean owned Japanese restaurant offers the limited "Tonkotsu Shio Ramen" every Wednesday. The restaurant seems to only offer 10 bowls of these per week. The employee here has trained in the famous Japanese Tempura restaurant "Ginza Ten-Ichi". I am curious to see how the limited Wednesday ramen tastes.
---