All over the world,"Ramen" is becoming the next popular Japanese cuisine after "SUSHI".
It's no exaggeration to say that Vancouver is one of most competitive RAMEN battleground.
LifeVancouer went out to eat as many Ramen as we could, to compile the "Ultimate Ramen Guide Vancouver". Tastes & opinions vary, but we hope our reviews give you an insight into the Vancouver Ramen.
Let's explore and find your favourite one!
(Some of the information written on February, 2015. Please let us know it, if you find prices, times and other info. have changed.)
Useful terms to enjoy Ramen
【Shio】Salt 【Miso】Soy bean paste 【Shoyu】Soy sauce 【Tonkotsu】Broth made from pork bone 【Chashu】Barbecued marinated pork
Ramen Restaurants in Vancouver By Region style
Hokkaido Ramen Santouka(Asahikawa Style), Hida Takayama Ramen(Hidatakayama Style), Yah-Yah-Ya Ramen(Yokohama Style), Danbo・Menya Japanese Noodle・The Ramen Butcher(Fukouka Style)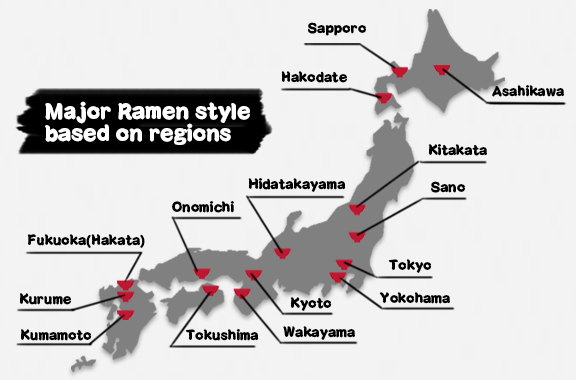 Asahikawa
Asahikawa ramen style is mainly a blend of pork and chicken stocks and a seafood broth, making for a rich and complex soup with a shoyu base.
Yokohama
Yokohama is better known for ie-kei ramen, a viscous, salty, and fatty tonkotsu-shoyu style pioneered at Yoshimuraya in 1974.
Hidatakayama
Hidatakayama's ramen is sometime called "chuka soba" or Chinese-style ramen in this region in order to distinguish from Japanese traditional noodle used a soy base. The soup is mainly made from bonito,chicken and vegetables with Soy sauce and mirin (Sweet rice wine).Noodles are curly type.
Fukuoka(Hakata)
Broken pork bones are cooked over a high flame for days at a time here until the marrow seeps out, creating a smooth and creamy broth.
If you learn Ramen style by region more, these site(Lucky Peach and Is Japan cool? Ramen) will help you.
WEST END
West End is the most popular destination among foodies, and is also the most competitive Ramen area. You won't go a block without seeing a Japanese IZAKAYA or Ramen restaurant in this neighbourhood.
---
Touhenboku Ramen (唐変木)
【Address】 854 Denman Street, Vancouver
【TEL】(778) 379-3456
【Business Hours】11AM–10PM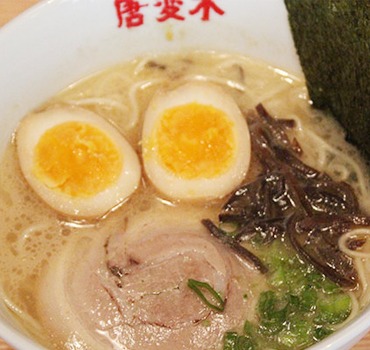 White Original Ramen(Sea Salt×Pork Belly Chashu ×Thin noodle)/$10.50
Tasted by our writer
Tohenboku is one of popular Ramen restaurants in Toronto. Now it has come to Vancouver and taken part in the Ramen battle in WestEnd. The first thing worthy of special mention is that customers can customise their Ramen bowl by choosing the tastes of soup, seasonings, noodles, and meats. They have 3 tastes of soup (White Original, Red Spicy, and Black Garlicky), 3 seasonings (Soy Sauce, Sea Salt, Miso), 2 types of noodle (Thin and Thick), and 3 kinds of meat (Pork Belly, Pork Shoulder, and Chicken). In a nutshell, we can have 54 types of Ramen bowl! Any type of bowl is all $10.50.
I tried White Original× Sea Salt× Thin noodle× Pork Belly. The soup is chicken broth based and added some pork broth. It has rich and creamy taste thanks to its collagen and gelatin from the broths. So it is not so greasy. I chose Pork Belly meat and it went well. If you like the lighter one, I believe Chicken meat will go better. I will try it next.
(Spicy Food Loving Writer from Fukuoka Japan)
---
Men no Kura(麺の蔵)
【Address】1773 Robson St, Vancouver
【TEL】(778) 379-5872
【Business Hours】Sunday-Thursday 11AM–11PM, Friday 11AM–12AM, Saturday 11AM–12AM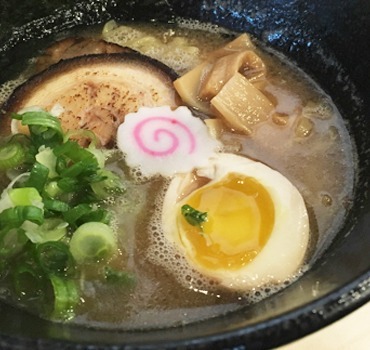 Tonkotsu Shoyu/$10.45
Tasted by our writer
I tried Tonkotsu Shoyu and Tsukemen Original. Tonkotsu Shoyu has very rich taste soup and the thick frizz noodle can hold it very well. The chashu is savoury and goes well with soup too. As far Tsukemen Original, I noticed it's very similar to Taishoken's Tsukemen which has rich dried bonito broth and thick noodle. Taishoken is Ramen restaurant group in Japan and famous for the father of Tsukemen style Ramen. I heard that they're actually descended from the Taishoken group. If you know the taste of Taishoken, it's worth to try comparing the taste!
(B-grade Japanese gourmet Loving Writer from Fukuoka Japan)
---
Koyuki Sapporo Ramen(小雪)
【Address】795 Jervis Street, Vancouver
【TEL】(604)695-9177
【Business Hours】Monday-Saturday11:30AM–11PM, Sunday 11AM–9AM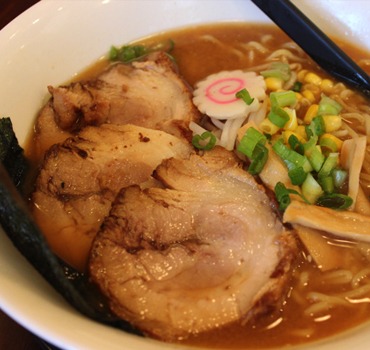 Miso Ramen/$10.50
Tasted by our writer
I tried their signature, Miso Ramen. It made by a Japanese chef who had worked for Sanpachi Ramen in Vancouver. Sanpachi Ramen group is Sapporo style Ramen restaurant chain basically from Hokkaido, Japan. That means it has the typical Hokkaido style combination of corn topping with Miso soup and makes mild flavor in Ramen bowl. Their Chashu has the best thickness and balance of lean and fat for me. It goes well with the mellow texture of Miso soup.I also tried Tori Shio Ramen whose soup made from chicken broth and salt. The soup has delicate flavor and very light and mild salty taste. If you like lighter taste Ramen, I'll recommend it.
(Spicy Food Loving Writer from Fukuoka Japan)
---
hapa ramen(葉っぱラーメン) *CLOSED September 2016
【Address】1479 Robson St,Vancouver
【TEL】604 689 4272
【Business Hours】11:00am – 10:00pm
【Close】Unknown
【Facebook】
HAPA RAMEN Now Open on Robson Street! The latest addition to the Ramen scene, Hapa Ramen Vancouver, serves fresh ramen noodles made locally. No preservatives! You can get extra noodles if you've got a big appetite. Half size available if you're not a big eater, or feel like getting a few appies on the side.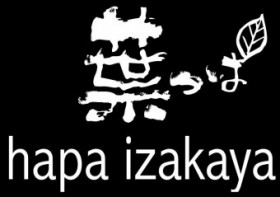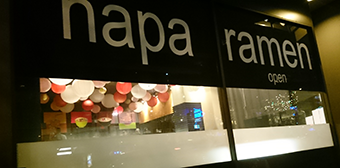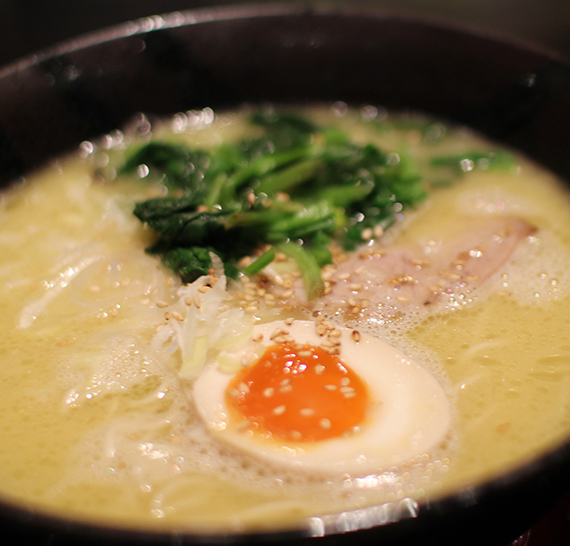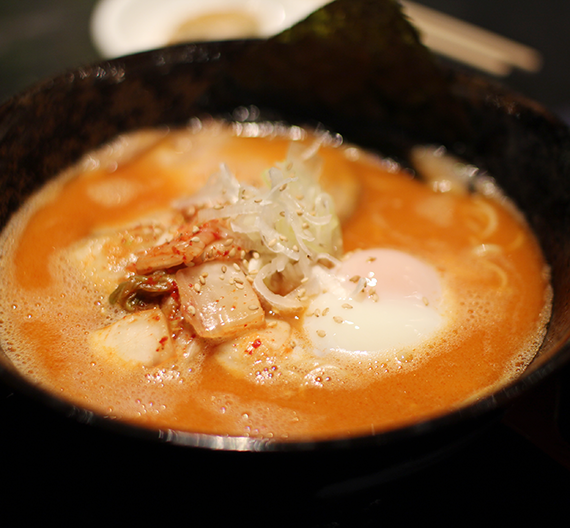 Tasted by our writer
Hapa Ramen seats about 120 people, and even though it's a ramen place, it still retains that 'Hapa' ambiance and feel. I had the Pai-Tan Shoyu, Pai-Tan Shio and Paitan-Kimchi. On the side, I tried their Cha-Shu Donburi.
Pai-Tan is a creamy, chicken-based broth, and relatively considered to be on the heavy side. But the Shoyu's soup was light, and complemented well with the seaweed toppings. The Shio had a more Pai-Tan feel, so was more rich and creamy. The Kimchi is perfect for those who love something spicy! Overall, it was a lighter Pai-Tan than thought, making it not overly heavy, but very filling. Hapa's Cha-Shu wasn't fatty, and the meat was very nice and juicy.
The Cha-Shu Donburi featured the same Cha-Shu as the ramen. The combination of Cha-Shu, mayonnaise and half-boiled eggs was heavenly. Flavour just bursts in your mouth. I'm a big eater, so next time, will go for a full bowl + extra noodles, plus several sides.
(Born in Japan, educated in US. Mainly a Shoyu Ramen guy who can't do spicy food)
---
Kingyo Izakaya(居酒屋金魚)
【Address】 871 Denman St, Vancouver
【TEL】604 608 1677
【Business Hours】Lunch 11:30am – 2:45pm /Dinner 5:30am – 11:30am
【Close】Statutory Holidays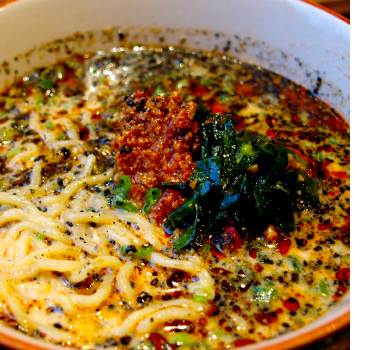 Tasted by our writer
It's actually "Tantan Men", and it's not "Ramen". I couldn't help but love the its name; "天下無双 (TENKA MUSOH) ". It means "The Land's Greatest/Unmatched Under Heaven"!! lol Sounds so cool.
The Tantan Men hasn't lost the crown as the 'most ordered dish' during Kingyo's dinner hours since it opened. Apparently, the Tantan Men has gone through several 'rejuvenations', meaning it's been continuously improved upon.
The noodle is wavy , thick, quite filling, with a light crunchiness coming from the chives. It compliments the NikuMiso (Minced meat seasoned with soy bean paste) perfectly. The soup is Tonkotsu-based broth, so it's creamy and mild, yet sharp due to a generous heap of spicy chili garlic oil. Just by inhaling the back sesame aroma will make you drool. If you love spicy and creamy, this is the one.
(Spicy Food Loving Writer from Fukuoka Japan)
OUR FAMOUS INVINCIBLE & UNDEFEATED TANTAN NOODLE(天下無双の担々麺)/$9.80
Message from the restaurant's manager
Please try our "天下無双" Tantan Men, the most popular dish at our restaurant since we opened. It's even respected by other Ramen restaurants! You will become a big fan at the first bite!
---
GYOZA KING (餃子王)
【Address】 1508 Robson St,Vancouver
【TEL】604 669 8278
【Business Hours】Tuseday – Friday 5:00pm – 1:00am Sunday 5:00pm – 11:00pm
【Close】Monday
GYOZA KING is a Japanese IZAKAYA restaurant offering Japanese home-made dishes like Oden, Okonomi-Yaki and Grilled Mackerel…and of course, they have Ramen!! They have your three standard soup bases: Shio, Miso, and Shoyu. They're open until 1:00 AM, so it is perfect time to end the evening of drinking with a hefty bowl of Ramen, just like a typical Japanese office worker.*We are still waiting to hear from them to listen to their story! We will update as soon as we can get more information.
---
Kintaro Ramen(金太郎らあめん)
【Address】788 Denman St. Vancouver
【TEL】604 682 7568
【Business Hours】11:30am – 11:00pm
【Close】Monday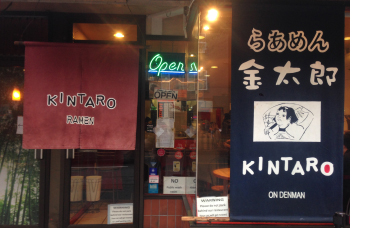 Kintaro Ramen opened in 1999, and is one of pioneer Ramen restaurant in Vancouver.
Their soup is a tonkotsu-based broth, mixed with a speciality broth made from kelp and dried sardine, which gives it it's rich aroma. They have your basic soup options: Shoyu, Miso, Shio…. and the intriguing cheese flavour!
*We are still waiting to hear from them to listen to their story! We will update as soon as we can get more information.
---
Ramen Koika (ラーメン恋歌)
【Address】1231 Davie Street, Vancouver
【TEL】604 336 2779
【Business Hours】Mon-Fri 11:30am – 10:00pm
Sat・Sun 12:00pm – 10:00pm
【Close】Monday
【Facebook】
Opened along the busy Davie Street in 2014, Koika offers a wide variety of Ramen tastes with a unique and creative edge. The owner has gained experiences at 12 Ramen restaurants in Japan for several years. They are offering a wide range of noodle menus without MSG.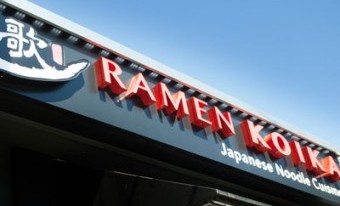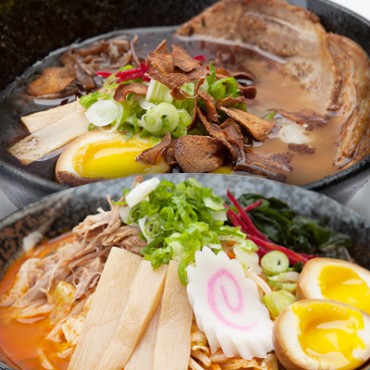 Tasted by our writer
The Ramen burger blew our Japanese reader's mind away! I ran into their Ramen Burger one day, and I tried it as new adventure because I'd never seen Ramen Burger before in Japan. Actually this is also the first Ramen Burger in Vancouver. A ramen burger is a burger patty sandwiched between two ramen noodle buns. Koika's buns are made of the same amount of a bowl of their ramen and it's very filling. That's worth to try. I especially love their Chashu Burger.
I also tried their Tomato Ramen that is popular among their regular customers. It has fresh tomato flavour and rich chicken broth that is great marriage with ramen noodle. Actually it was a limited-time menu, but it has been revived because of calling from their fans.
(Skinny big eating Writer from Okayama Japan)
Cha Shu Burger/$8.95
Tomato Ramen/$9.95
---
Hokkaido Ramen Santouka
(山頭火)
【Address】1690, Robson Street, Vancouver
【TEL】604 681 8121
【Business Hours】11:00am – 11:00pm
【Close】N/A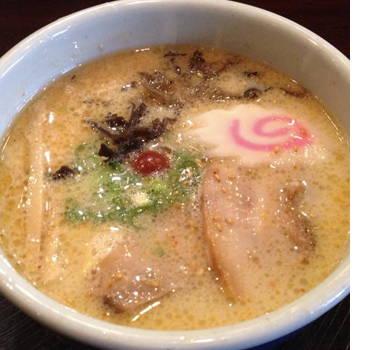 Tasted by our writer
Santouka came to Vancouver from Asahikawa, Hokkaido, Japan. Asahikawa known for it's distinctive style of Ramen.
Since Santouka opened in Vancouver, there's never been a day without a line up. Their basic soup is made from Tonkotsu, mixed with vegetables and dried sardine. There are three flavours: Shio, Miso and Shoyu.
The Shio is my favourite! I love the combination of the creamy and rich soup with the semi thick noodle. Santouka is proud of their Ramen and said "We will offer the exact same taste as Japan". To ensure this, the key ingredients such as noodles and sauce are imported from Japan. If you want to try it, you should be ready to wait at least 10-15 minutes!! It's definitely worth the wait.
(Spicy Food Loving Writer from Fukuoka Japan)
Shio Ramen/$8.95
---
DANBO (暖暮)on Robson
【Address】1333 Robson Street Vancouver
【TEL】604 559 8112
【Business Hours】11:30am – 11:00pm
【Close】Random
---
DONBURIYA
(どんぶり屋)*CLOSED February 2016
【Address】1329 Robson, Vancouver
【TEL】604 568 6066
【Business Hours】11:00am – 11:00pm
【Close】N/A
【 Facebook 】
At Donburi Ya, you can enjoy the DONBURI culture. They serve a lot of Donburi dishes, but it's not just about DONBURI. Try their other authentic Japanese fast food such as Japanese Curry, Yakisoba, and Ramen.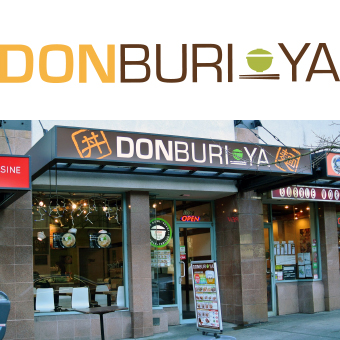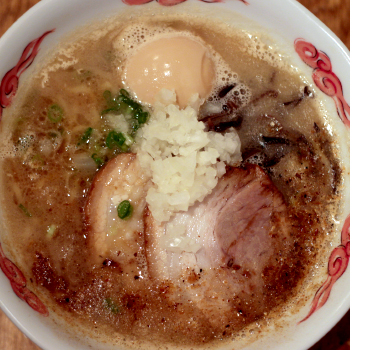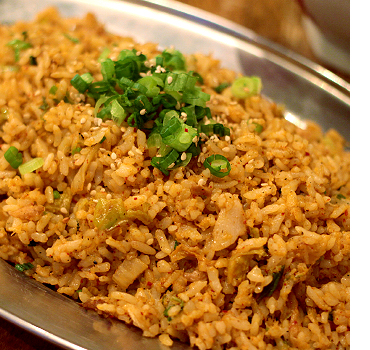 Tasted by our writer
I thought Donburiy-Ya was all about donburi, but gave the Ramen a try. I tried the Tokyo-style Tonkotsu Ramen. It's a hearty Ramen with fish powder on the top, and semi – thick noodle perfectly matched for the tonkotsu soup, chashu and marinated egg.
The portion looked too big for me, but the fresh flavour and texture of sliced raw onion made it lighter and less heavy than it looked.
If you never tried tonkotsu soup because it seems heavy, I highly recommend you give it this one a try.
FIY, their novelty dish "Kimchi chahan" is epic.
(Beer Loving Writer from Grater-Tokyo Japan)
Tokyo Tonkotsu Ramen/$11.75
Kimchi charhan/$9.25
Comment from the Restaurant
Hi LifeVancouver readers, my name is HOSSY, the manager. We're located at the corner of Robson x Jervis!
In addition to the usual Donburi suspects such as curry, udon, yakisoba, we have chicken karaage and takoyaki! Our Tokyo Tonkotsu Ramen goes great with beer!
---
Hida Takayama Ramen
(飛騨高山らーめん)
【Address】Robson Public Market 2nd Floor, at 203-1610 Robson St Vancouver
【TEL】604 688 8837
【Business Hours】11:30am – 8:30pm
【Close】Irregular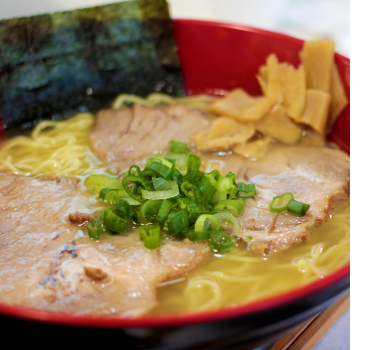 Tasted by our staff!
Hida Takayama's style is from Hidatakayama region in Japan. Their style is termed "Chuka soba"(It means Noodle from China) to distinguish with Japanese traditional noodle made from buckwheat termed "Soba". They have a nice selection of soups to choose from: soy sauce, shio, miso, spicy miso, tantan men, tomato and salad mix style.
All their ingredients are all-natural/organic, so it's grasped that niche market. It's located inside Robson Public Market, and parking is free.
(B-grade Japanese gourmet Loving Writer from Fukuoka Japan)
Natural Rock Salt Ramen/$7.50
---
MARUTAMA RA-MEN
(ラーメンまる玉)
【Address】780 Bidwell Street, Vancouver
【TEL】604 688 8837
【Business Hours】月–木 11:30am – 10:00pm 金 11:30am – 10:30pm
土 11:00am – 10:30pm 日 11:00am – 10:00pm
【Close】Statutory Holiday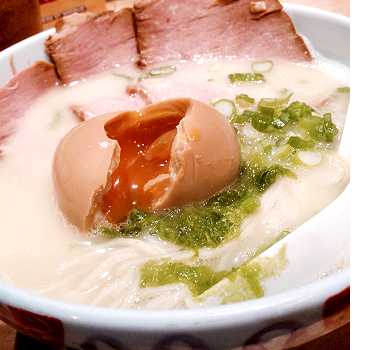 Tasted by our staff!
I tried their regular Ramen, and added a half-boiled egg & chasu to it. What most impressed me was their Tori Paitan soup, or Chicken-based soup. It's low-calorie, healthy, full of collagen. It's very light, and doesn't leave your mouth oily and in need of water.
(Beer Loving Writer from Grater-Tokyo Japan)
TAMAGO RA-MEN/$10.50
---
Motomachi Shokudo(元町食堂)
【Address】740 Denman Street, Vancouver
【TEL】604 609 0310
【Business Hours】12:00~23:00
【Close】Wednesday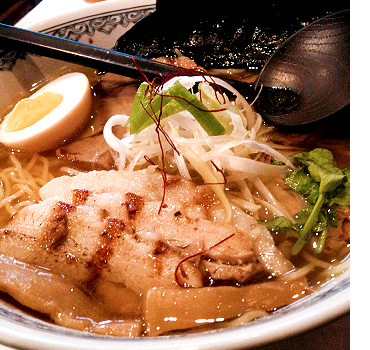 Tasted by our staff!
The soup is made from organic chicken and vegetables, so it's perfect for health-concious Vancouverites. They have Shio, Shoyu and miso. The soup was light and refreshing. The noodles were straight, bouncy in texture. Even the chashu was less-fat, making you feel nice and full, yet unbloated.
(Spicy Food Loving Writer from Fukuoka Japan)
Extra BBQ pork Ramen (Shio)/$11.50
---

---
Downtown
Downtown Vancouver is full of Japanese restaurants and Ramen places. Certain Ramen places may close before regular hours, if they run out of soup, so make sure to come early or book ahead if it's during dinner time.
---
KAMEI BARU
(カメイバル)
【Address】990 Smithe Street, Vancouver
【TEL】604 559 8588
【Business Hours】月-日 11:00am – 12:00am
【Close】None
【 WEB / Facebook 】
With a strong emphasis on seafood, Kamei Baru brings dishes featuring the four seasons of Japan. The restaurant is frequented by business visitors from Japan. The interior is decorated with seasonal decorations during holidays and sporting events. As it often happens with Japanese restaurants, if they run out of the daily soup stock, you'll miss out on the Ramen. Make a reservation, or don't go too close to their last call.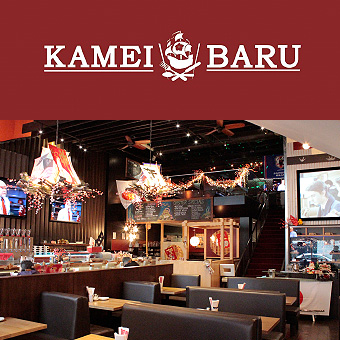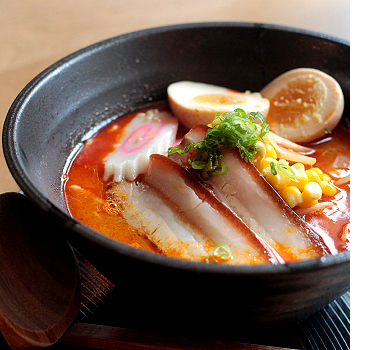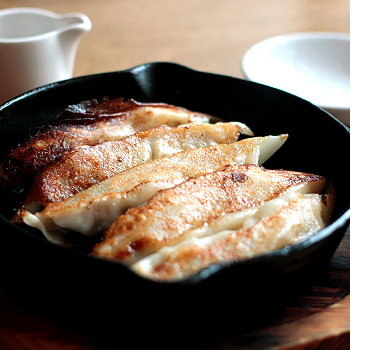 Tasted by our staff!
You get the chance to try their Ramen during lunch time and after 9 pm. The soup is dried-seafood and pork-based. The noodles are hand-made by their chefs! They've got Tonkotsu Shio, Tonkotsu Miso, and Spicy Tonkotsu. The spicy one had quite a punch to it, and goes great with beer and gyoza on the side. The Tonkotsu miso had a creamy taste, and the Tonkotsu shio had a rich aroma. During lunch time, the Ramen plus gyoza or sushi roll combo is $12.99. The gyoza was juicy and crunchy.
(Spicy Food Loving Writer from Fukuoka Japan)
Tonkotsu Miso / $9.99
Jumbo Gyoza / $7.95
Comments from the Restaurant
Our speciality our the hand-made noodles. Daily quantities are limited, prepared to be a bit disappointed if you come in hungry around last call. Ask our servers what our special and seasonal menus are!
---
GYOZA BAR+ RAMEN
【Address】622 W Pender St Vancouver
【TEL】604 336 5563
【Business Hours】11:30am – 10:00pm
【Close】Random

Gyoza Bar is part of the restaurant group including Miku and Minami, known being frequented by Japanese celebrities and tv personnel during filmings. Their concept is to showcase Gyoza and Beer is an up-scale bar like atmosphere. Their style i different from traditional Japanese one but wort to try their Tonkotsu, chicken or tomato-based Ramen.
---
Shuraku (酒楽)
【Address】 4530 Hastings St, Vancouver
【TEL】604 558 3386
【Business Hours】Friday – Thursday Lunch 11:30am – 3:00pm / Dinner 5:00pm – 10:00pm
【Close】Monday & Statutory Holidays
Located right in the heart of the Granville street area, Shuraku offers delicious izakaya-style dishes. Have a Ramen to wrap up your dinner!
---
JINYA Ramen Bar
(ラーメン陣家)
【Address】 270 Robson St, Vancouver
【TEL】604 568 9711
【Business Hours】Monday – Thursday 11:00am – 10:30pm  Friday & Saturday 11:00am – 11:00pm Sunday 11:00am – 9:00pm
【Close】None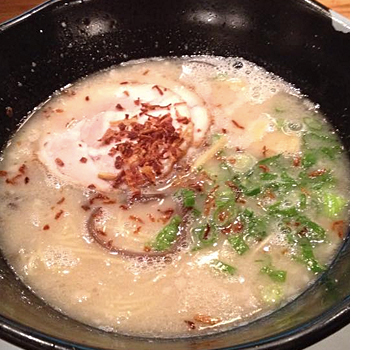 Tasted by our staff!
Jinya is one of the popular Ramen restaurant chain in Japan.They already opened their restaurant in U.S. The restaurant in Vancouver is also popular enought for people to line up. Their vaunted "Tonkotsu Shouyu Ramen"s soup is made from Tonkotsu broth stewed pork born over 10 hours and their original recipe shoyu sauce. Most popular one is "Tonkotsu Shouyu Black Ramen". Its rich tonkotsu soup with burned garlic has great aroma and a match for a half -boiled egg. They are also offering seasonal Ramen and every Ramen are very popular among our female writers, so check it out the first when you get there.
(Spicy Food Loving Writer from Fukuoka Japan)
Tonkotsu Black/$11.95
---
Taishoken(大勝軒)
【Address】515 Abbott St Vancouver
【TEL】778 737 3805
【Business Hours】Lunch 11:30am – 4:00pm Dinner 5:00pm – 9:30pm
【Close】Random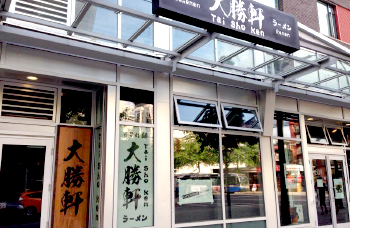 We already covered them once when they opened. They have not only Miso, Shio and Shoyu Ramen but also tomato Ramen. Note that they get closed when their soup has run out.
China Town
There are also a tons of hidden gem restaurants in Chinatown. Yes, Ramen restaurants are too.
---
HARVEST(ハーベスト)
【Address】243 Union Street,Vancouver
【TEL】604 682 8851
【Business Hours】月-金 11:00am – 8:00pm 土・日 10:00am – 6:00pm
【Close】不定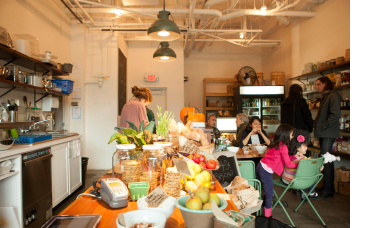 The interior doesn't look like a Ramen restaurant, but Ramen offered by Chef Hokuto is organic, healthy and tasty. One of our reader recommended us their Miso Ramen. If you're on the health concious side, give this Ramen a whirl.
Photo:Harvest via Facebook
---
The Ramen Butcher
(麺屋こうじグループ/ラーメンブッチャー)
【Address】223 E.Georgia Street,Vancouver
【TEL】604 806 4646
【Business Hours】Lunch 11:00am – 3:00pm Dinner 5:00pm – 11:00pm
【Close】Random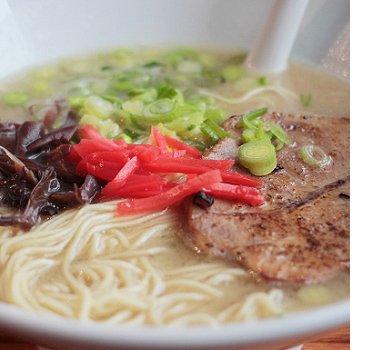 Tasted by our writer
Opened February of 2015, this new-comer Ramen location is part of the Menya Kouji group in Japan. They offer the standard 'CLASSIC', garlic & black sesami oil 'BLACK', Italian style 'GREEN', Spicy 'RED', and the miso 'ORANGE'. The noodles are thin and straight, matching perfectly with the unique soups. For the health concious crowd, you can choose the 'lean' Cha-shu instead of the fatty ones.Especially, writers from Fukuoka Japan really love their Ramen.
(Japanese B-Grade foods Loving Writer from Fukuoka Japan)
Tonkotsu Ramen CLASSIC/$8.95
Broadway
Stretching from east to west through Vancouver, Broadway is full of Ramen adventures.
---
Suika (スイカ)
【Address】 1626 W Broadway, Vancouver
【TEL】604 730 1678
【Business Hours】Sunday – Thursday Lunch 11:30am – 2:00pm / Dinner 5:30pm – 11:30pm(Lastcall)
Friday&Saturday Lunch 11:30am – 2:00pm / Dinner 5:30pm – 12:30am(Lastcall)
【Close】Statutory Holiday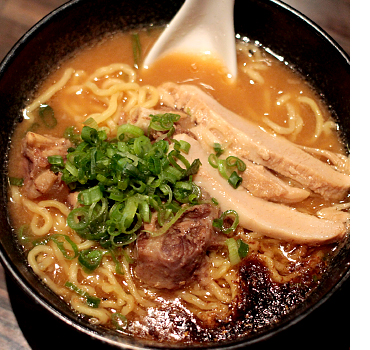 Tasted by our writer
I'm unfamiliar with Miso Ramen because I'm from Hiroshima Japan, so this is my first Miso Ramen!! It is made from soup based on pork, chicken & beef, with rich aroma from taken from shrimp, making it a much lighter than your regular miso. During lunch time, you get a complimentary salad with its popular house dressing. They said some customer ask them the recipe of the house dressing. It was crowded even in 2pm, so I recommend to make reservation.
(Sweets Loving Writer from Hiroshima Japan)
TOKYO OXTAIL RAMEN/$9.80
---
Benkei Ramen (弁慶ラーメン)
【Address】 545 W Broadway, Vancouver
【TEL】604 568 6178
【Business Hours】11:00am – 10:30pm
【Close】None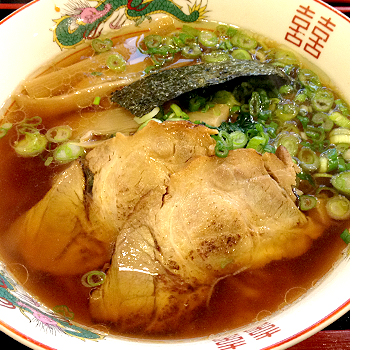 Tasted by our writer
Benkei Ramen prides itself on creating simple and one of Japanese old-fashioned Ramen. They offer the basic soy sauce & shio, as well as gyoza & curry to go with the Ramen bowl. The soy sauce soup is made from chicken simmered over low heat over a long time, giving it a savoury yet still fairly light palate. It kept the taste even it's heated by a microwave in my home because of its mildness.
(Ramen Loving Writer from Yokohama Japan)
Shoyu Ramen/$8.50